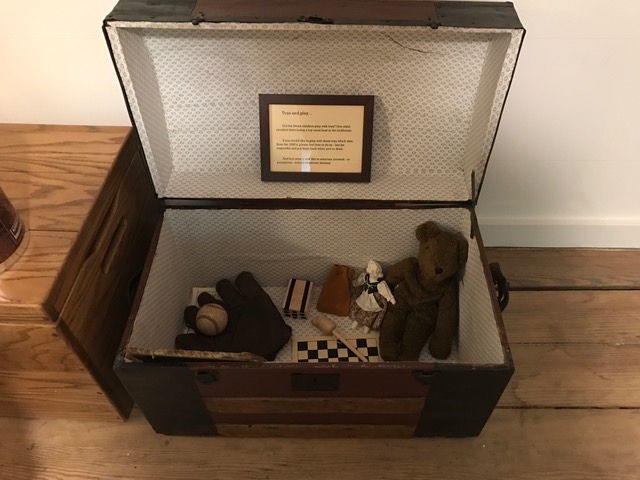 National Park Service Ranger Carl Lennartson, usually on duty at Great Falls and occasionally at Georgetown, provided insights into the historical interpretation of Swains Lockhouse for this post.
Each of the C&O Canal lockhouses in the Canal Quarters program is furnished to represent a specific time period with special significance. Lockhouse 6 reflects the 1950s, honoring Supreme Court Justice Douglas and his role in preserving the Canal. Lockhouse 10 represents the 1930s in a nod to the nearby Civilian Conservation Corps camp. These historical lenses not only allow guests to enjoy the experience of staying in an authentic lockhouse but also provide a glimpse into a particular era.
Lockhouse 21 is furnished to reflect 1916, a dynamic year for the United States and the world. In this year, the U.S. was poised to enter World War One, President Woodrow Wilson was re-elected, the women's suffrage movement was underway, the first woman was elected to Congress, and the National Park Service was established. On a more personal level to the Swain family, matriarch Mary Swain passed away after a lifetime on the Canal.
As part of the rehabilitation at Swains, furniture and accessories were selected that reflect 1916 and prior, since families would have had older items around the house. The Swains were a family with children so typical games from the time like dominoes, Jacob's Ladders, and marbles are stored in a toybox for modern visitors. Books from the late 19th and early 20th centuries are on Swains' shelves, inviting guests to peek inside. One of the most distinctive historical items on display at Swains is an authentic canal lockhorn, used by canalers for signaling to boats.
Historical interpretation requires explanatory text to put some of the features of Swains into context. The lockhouse is designed to encourage curiosity in visitors without seeming, in Ranger Lennartson's words, too "sterile." Unlike a museum, in which interpretive text is prominently displayed on walls, information about the artifacts, exhibits, and photos at Swains are tucked away for guests to discover.
In addition to period furnishings, there are two scrapbooks for exploration: one about the major national and international events of 1916 and one about Swain family history. The Swain family scrapbook is "very personal," according to Lennartson, and includes memories and photos provided by Bert Swain, who grew up in the lockhouse. There is also a visitors log in which guests of the Canal Quarters program can record their own experiences at Swains to share with others.
You can book your stay at Swains Lockhouse now!
Guest blogger Christine Rai is a college professor in the Washington, D.C. area with a passion for culture, food studies, and experiential learning. She writes about food, travel, and teaching at www.christinerai.com.