Thomas Swearingen Ferry & James Rumsey Bridge
In 1755, the Virginia General Assembly recognized the need for a proper river crossing, and Thomas Swearingen was authorized to operate a ferry on the Potomac River between the Maryland side and Shepherdstown, about half a mile upstream from Packhorse Ford. For over 50 years, the Swearingen family operated the ferry until John Blackford, who married into the Swearingen family, gained a controlling interest in 1816. Two of Blackford's slaves, the "Foreman of the Ferry", operated the ferry with power to hire. They oversaw white laborers, free blacks, and Indians.
In the late 1840s, citizens chartered the Virginia and Maryland Bridge Company, which posed a threat to the ferry. Ferry service was discontinued in 1850 and the company built a covered wooden bridge. Potomac Bridge got travelers across the river, though it was destroyed in 1861, 1889, and 1936 by fire, flood, and flood – respectively. In 1939 the bridge was rebuilt again and named after the innovative inventor of the steamboat, James Rumsey, and now carries Route 34 overhead.
Add to Itinerary
You can now create your own itineraries to guide your C&O Canal exploration, or you can copy one of ours! Lean more about Itineraries.
Mile Marker: 72.7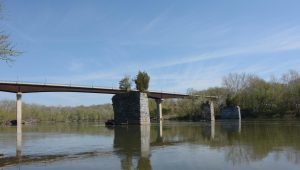 Photo by: Paula Tremba
Social Media Share: