Lock 38 (Shepherdstown River Lock)
The Shepherdstown River Lock is one of only three river locks on the Canal. Built from gray limestone and meant to draw traffic from the Virginia side of the Potomac River, the lock was used by Boteler's Mill most often, shipping and receiving cement and coal materials via canal boat. At mile marker 72.5 you can see the remains of this river lock.
Add to Itinerary
You can now create your own itineraries to guide your C&O Canal exploration, or you can copy one of ours! Lean more about Itineraries.
Mile Marker: 72.7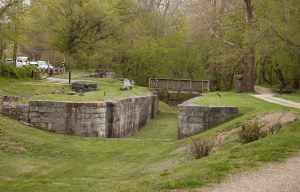 Photo by: Jim Tomlin
Social Media Share: