Thomas Cresap Gravesite and Ginevan House
Thomas Cresap died in 1787 and was buried here, overlooking Lock 70. This land was later owned by the Ginevan family, who built an impressive Victorian home on the land, which still stands today.
For many years (centuries, in fact), Thomas Cresap's grave sat unmarked and nearly forgotten. Livestock grazed over the unkempt grave, and the headstone was knocked over. In 1939, someone moved the headstone to the Oldtown Methodist Church cemetery a mile away for safekeeping. For the next 60 years, the gravesite would sit unmarked in the middle of a cow pasture. Historians, descendants, and the National Park Service overcame many challenges to return the headstone to its rightful place in the 1990s.
Add to Itinerary
You can now create your own itineraries to guide your C&O Canal exploration, or you can copy one of ours! Lean more about Itineraries.
Mile Marker: 166.7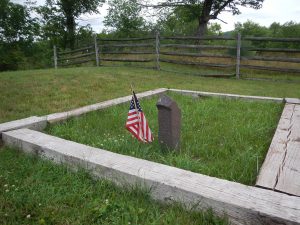 Photo by: PATC GPS Rangers
Nearby Points of Interest:
Social Media Share: