Oldtown
Located just over six miles apart in Western Maryland, the communities of Spring Gap and Oldtown today have a combined population of just under 150 people. Native American settlements in the area date back thousands of years. Frontiersman Thomas Cresap established a fort near the Potomac River in the early 1740s and his son Michael was the first white male born in Allegany County. The 1764 Michael Cresap House still stands today. The Potomac River at Oldtown was used as a crossing by troops during the French and Indian War and the Civil War. The 1850s ushered in the arrival of the C&O Canal and the area was bustling with the activity from four lockhouses and a store.
This area is rich with history (George Washington crossed the Potomac here in 1748) and is known for its great outdoor recreation. It has one of the best fishing areas on the Potomac River and is popular with canoeists, hikers, and bikers. A four mile section of the canal at Oldtown was re-watered in the 1940s-1950s as a result of a community effort and provides a wonderful place to relax in a peaceful setting.
Oldtown is a Canal Discovery! Read a Park Ranger's story and view other multimedia on our Canal Discovery page.
Photo by R. Blake Divilbliss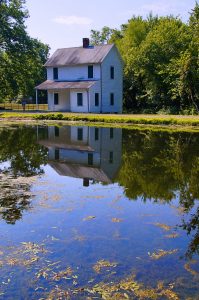 View near Oldtown by R. Blake Divilbliss
Nearby Points of Interest:
Social Media Share: