Oldtown
By the time the Chesapeake and Ohio Canal arrived in Oldtown, Maryland, the small town had already seen its share of history. Early Native American settlements in the area date back thousands of years and five of their trails passed through the area. The town's name, originally Shawnee Oldtown, is a reference to that tradition. Opessa Street is named for Shawnee leader King Opessa. Thomas Cresap, frontiersman and friend to George Washington, came to Oldtown from Washington County, Maryland in the early 1740s. Cresap established a fort near the Potomac River. One of the oldest structures in Allegany County, Maryland today is the 1764 Michael Cresap house. Michael was a son of Thomas Cresap. The low water crossing of the Potomac River at Oldtown was used during the French and Indian War and later during the Civil War. Several Civil War incidents at Oldtown affected the C&O Canal and the nearby B&O Railroad. Four C&O Canal lockhouses and a store operated at various times by the Carder and Wilson families were next to the canal.
A community effort re-watered over four miles of the canal at Oldtown in the 1940s and 1950s. The watered canal at Oldtown is often called Battie Mixon pond in honor of Maryland Department of Natural Resources Officer "Battie" Mixon who led the re-watering effort.
This area is also known for its great outdoor recreation. It has one of the best fishing areas on the Potomac River and is popular with canoeists, hikers, and bikers, providing a wonderful place to relax in a peaceful setting.
Add to Itinerary
You can now create your own itineraries to guide your C&O Canal exploration, or you can copy one of ours! Lean more about Itineraries.
Mile Marker: 166.7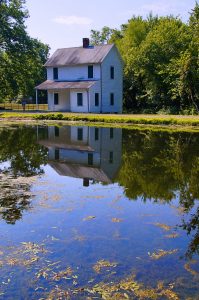 View near Oldtown by R. Blake Divilbliss
Photo by: Photo by R. Blake Divilbliss
Nearby Points of Interest:
Social Media Share: