Seneca Creek
Once known as "Sinegar Creek," Seneca Creek was a valuable resource for those who settled in the Washington area. In a time when the power of water drove grist mills, saw mills, bellows for forges and fulling mills, Seneca Creek was described as "the most powerful, consistent stream in Montgomery County."
The first known settler on the Creek was Henry Thickpenny in 1722. With the main Seneca stream falling 275 feet as it worked its way toward the Potomac, mills were built along the creek beginning in the 18th century.
Seneca Creek is also the source of the distinctive red sandstone used to build the Canal, the Smithsonian castle and many other buildings and structures in the nation's capital. Layers of sandstone and shale were deposite
Add to Itinerary
You can now create your own itineraries to guide your C&O Canal exploration, or you can copy one of ours! Lean more about Itineraries.
Mile Marker: 22.7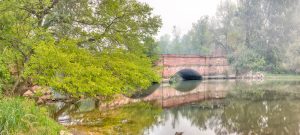 Seneca Aqueduct Credit: John Gensor
Social Media Share: