Canal Place Heritage Area
Canal Place is Maryland's first certified Heritage Area. Headquartered at the historic western terminus of the C&O Canal in Cumberland, Canal Place gained its designation in 1993. The area's theme is "Crossroads of Transportation" due to Cumberland's role in the history of transportation – from the Canal to the National Road and the Baltimore and Ohio Railroad.
Maryland's Heritage Areas are State certified regions where public and private partners make commitments to preserving historical, cultural and natural resources for sustainable economic development through heritage tourism.
Canal Place features a wealth of activities and attractions including canal boat replica tours, scenic rail excursions, the Shops at Canal Place retail plaza, hiking/biking along the canal, and the C&O Canal National Historical Park's Cumberland Visitor Center.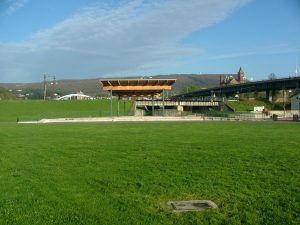 Photo by: Tina Yoder
Nearby Amenities:
Not available for this POI.
Nearby Points of Interest:
Not available for this POI.
Nearby Events: