Montgomery County Pumping Station
The Montgomery County Pumping Station houses the Washington Suburban Sanitary Commission (WSSC) Potomac River Filtration Plant, which was built in 1971 by the WSSC. Today, the plant processes an average of 114 million gallons of water per day from the Potomac. The Potomac River Filtration Plant serves a similar purpose as the Washington Aqueduct System in Great Falls, which has the largest comparable withdrawal of gallons of water per day, drawing in 158 million gallons per day.
Historians have traced the innovative idea to utilize the river's water supply back to George Washington's proposal in 1798 stating that "the water of the Potomac may, and will be brought from the Great Falls into the Federal City, which would, in future, afford an ample supply of this object." Washington was onto a brilliant idea that later inspired Congress to commission a study of the 1852 water supply.
Today, in conjunction with the Patuxtent River plant, the Potomac River plant provides water to 1.8 million residents of Montgomery and Prince George's counties through a 4,300-mile network of underground pipes and fifty-five storage tanks. Washington's suggestion positively impacted the lives of many people in the federal city as they no longer had to rely on seeking water from nearby streams and rivers. During your visit at the Montgomery County Pumping Station, you may read the informative plaques about the Potomac River and Valley while observing the river at the designated river overlook area for the public.
Add to Itinerary
You can now create your own itineraries to guide your C&O Canal exploration, or you can copy one of ours! Lean more about Itineraries.
Mile Marker: 17.5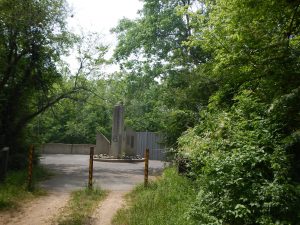 Social Media Share: