Lock 21 (Swains Lock)
The history of Lock 21 and the Swain Family will forever be intertwined. Swain Family members can be traced back to the original construction of the Canal, and their tradition of service at this lock house extended through the Canal's most thriving decades and much of the 20th century.
It wasn't always the best of times for the Swain family. They lived at the lock house through some of the worst events, including floods of 1889, 1936 (when many bridges were destroyed), 1942 and 1972. Jesse Swain was the lock tender when the Canal closed down in 1924, but other members of the family stayed on for many years after the C&O Canal became a national park. They even operated a popular concession stand for park visitors.
Swain's Lock, built of red sandstone from Seneca, is still accessible on the berm side of the Canal. You can reach it by the towpath or from River Road via Swains Lock Road. A campsite just beyond the lock offers picnic tables and toilets. Running water is available from the faucet near the parking lot.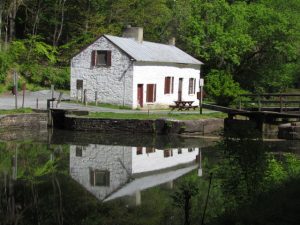 Lockhouse 21
Nearby Points of Interest:
Nearby Events:
Social Media Share: