Marble Quarry Campsite
According to old maps, before the C&O Canal was built, there was "a "Marble Quarry" running along the Maryland side of the river for over a mile. The stone that was quarried here was known as "Potomac marble," which wasn't a solid substance, but rather was composed of angular pebbles held together by a limestone matrix. Benjamin Latrobe discovered Potomac Marble with its varied and rich colors and made the decision to include it in the Capitol buildings he was designing. Because the canal had not yet been built yet, the blocks of stone took an arduous boat trip down the river through the Patowmack Company's skirting canals at Seneca, Great Falls, and Little Falls. After arriving at its destination, the marble proved incredibly hard for sculptors to work with, as the small peddles crumbled away easily. However, they persevered and today, Potomac Marble from this site can be seen in the columns at the Old Hall of Representatives, and at Statuary Hall.
The Marble Quarry Campsite is a hiker/biker campsite. Amenities include a chemical toilet, water, picnic table, and grill.
Please Note: Potable water may not be available at each campsite. Water is treated with iodine. Please plan to have water purification tablets with you. Water is turned off from November 15 to April 15 each year.
Please visit the C&O Canal National Historical Park's website for detailed camping information, or you can call 301-739-4200 with any questions. Site reservations can be made via the Recreation.gov website.
Add to Itinerary
You can now create your own itineraries to guide your C&O Canal exploration, or you can copy one of ours! Lean more about Itineraries.
Mile Marker: 38.2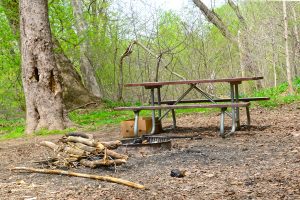 Social Media Share: