Lock 26 (Woods Lock)
Lock 26 has aged beautifully. It is currently filled in, to keep its empty walls from collapsing into a pile of stones. The stone foundation of its house has been capped with concrete, to keep its footprint from being completely lost to undergrowth. The discerning eye can pick out where the lock had once been lengthened to accommodate two boats, stem to stern, during a fleeting decade of prosperity on the canal, after the Civil War. Troops came and went during those four years, but did not stay long. Only time kept marching past.
Add to Itinerary
You can now create your own itineraries to guide your C&O Canal exploration, or you can copy one of ours! Lean more about Itineraries.
Mile Marker: 39.4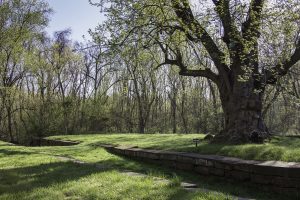 Photo by: Bruce Saunders
Social Media Share: