Lock 22 "Pennyfield"
Located at mile 19.63 on the C&O Canal, Pennyfield Lockhouse at lock number 22 is a quiet place of escape for those seeking from the hectic pace of life in Washington, D.C. Many who live in and around the DC area are regular visitors to this place where one can walk, jog, ride bikes or fish. However, they are not the first to visit Pennyfield with the intent of finding a bit of rest.
In the 1870s, then-President Grover Cleveland would regularly visit Pennyfield in order to pursue his favorite hobby of fishing. Long before Camp David became the presidential retreat, Cleveland, who had grown up on the Erie Canal in New York State, found a comfortable respite in the familiar presence of locktenders and boatmen. Today, as I frequently visit Pennyfield, I find myself often thinking about Mr. Cleveland and his visits to this place. I share with him the history of having grown up on the Erie Canal, and as, in his time, he knew the locktenders and boatmen of both C&O and Erie, I have come to regard the visitors, vistas and wildlife of both places as something akin to home.
Today, a visitor to Pennyfield need not only experience the lock, lockhouse and its surroundings on a short day trip, but now one can linger at Pennyfield a bit, spending the night in the restored Pennyfield Lockhouse 22, hearing the peaceful night sounds that come to this rustic spot, underscored by the continuous rush of the Potomac River and the water pouring through the lock gates outside the lockhouse door. From this spot, you can imagine the sound of a boat horn, calling you from your sleep, or the challenges of the lives of the locktenders as the Civil War bore down upon the Canal. From this place, you can watch the shadows of blue heron glide across moonlit waters, or tell ghost stories around a fire ring on a cool, autumnal night. There is a serenity to this place that Mr. Cleveland and others who live in and visit the DC area cherish; a serenity that can be yours, as well, for a day, a night or as often as you choose to make Pennyfield your presidential escape.
Add to Itinerary
You can now create your own itineraries to guide your C&O Canal exploration, or you can copy one of ours! Lean more about Itineraries.
Mile Marker: 19.6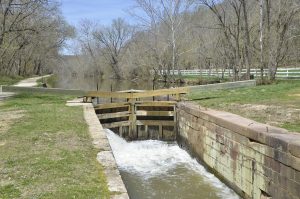 Photo by: Denise Schleckser
Social Media Share: