Dierssen Waterfowl Sanctuary
If you're looking for a quiet place to see a wide variety of waterfowl and other wildlife, grab your binoculars and walk along the pond at Dierrson Waterfowl Sanctuary. Donated by the State of Maryland, this 40-acre tract of marshy woodland on the Potomac River floodplain sits along a natural migration route for waterfowl species including wood ducks, teal, and mallards. More patient spotters can also catch glimpses of white-tailed deer, beaver, gray and red fox, and wild turkeys.
At the sign for the sanctuary, follow the footpath down to the floodplain and the pond. Long pants are recommended as ticks, biting insects and mosquitoes also like it there.
To reach the sanctuary, take exit 39, MD Route 190 (River Road) toward Potomac. Turn left on Pennyfield Lock Road. On the C&O Canal towpath, head west for approximately ½ mile. For more information, contact the Gwynnbrook Work Center at 410.356.9272.
Add to Itinerary
You can now create your own itineraries to guide your C&O Canal exploration, or you can copy one of ours! Lean more about Itineraries.
Mile Marker: 20.0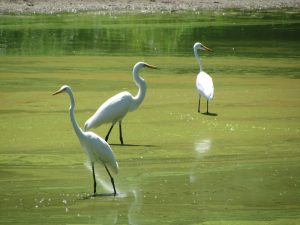 Photo by: Lucy Uncu
Social Media Share: