Bald Eagle Island Campsite
The Bald Eagle Island campsite is located just north of the narrow Point of Rocks section of the Potomac, a historic point of contention between the Canal and the B&O Railroad for right of way. Claiming it had rights to the land along the Potomac through this narrow section, the Canal sought an injunction against the B&O Railroad when it tried to buy the same land.
The Canal won its battle, and the railroad would need to tunnel through the Catoctin Ridge. The railroad would later re-build tracks within the failed Canal bed.
The same narrow passageway that brought the Canal and the railroad so close together is the reason why overnight campers at the Bald Eagle Island campground will never be far from the sounds of passing trains. Earplugs for sleeping are recommended. Be advised that the closest campsite upstream is 12.5 miles.
Please Note: Potable water may not be available at each campsite. Water is treated with iodine. Please plan to have water purification tablets with you. Water is turned off from November 15 to April 15 each year.
Please visit the C&O Canal National Historical Park's website for detailed camping information, or you can call 301-739-4200 with any questions. Site reservations can be made via the Recreation.gov website.
Add to Itinerary
You can now create your own itineraries to guide your C&O Canal exploration, or you can copy one of ours! Lean more about Itineraries.
Mile Marker: 50.3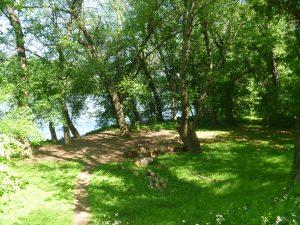 Photo by: PATC GPS Rangers
Social Media Share: