Historic Great Falls Tavern
The Great Falls Tavern serves as a C&O Canal National Historical Park Visitor Center. Visit the Park's website for more information.
Great Falls is one of the most popular spots on the canal for walkings out to the falls, watching the mule-drawn canal boat pass through Lock 20, picnicking, and/or heading out to the Billy Goat Trail.
The very first locktender at Lock 20, W.W. Fenlon, realized he had a special location and a business opportunity. In 1830, he convinced the Board of Directors of the Canal Company to expand the original lockhouse and allow him to operate an inn. Patrons enjoyed a tasty home-cooked meal, dancing in the ballroom of the northern wing, and the fine hospitality of Lockkeeper and Innkeeper Fenlon.
For 25 cents, overnight guests could reserve a bunk in the ladies or the men's quarters on the second floor. The third floor attic served as "the honeymoon suite" and privacy could be secured for those with 50 cents and a marriage certificate.
Each day people would escape the hustle and bustle of the city by jumping aboard a packet boat in Georgetown and heading out to Great Falls. The trip would take 6-8 hours! These visitors would come to do exactly what they do today -- walk out to the falls and hike the Billy Goat Trail. They would also visit the Tavern, called the Crommelin House, named in honor of a Dutch family instrumental in securing Dutch loans for the canal company. Some would spend the night, others would take a packet boat back to Georgetown, and still others would take the overnight boat ride to Harpers Ferry.
In the early 1900s, a trolley line operated by the Washington Railway and Electric Company opened up between Washington, DC, and Great Falls. This made getting to Great Falls much more convenient. Although it was discontinued in 1921, evidence of the rail line can still be seen in the Gold Mine Tract area.
Today, most folks take the short drive out to Great Falls where they still find a bit of natural wildness, an escape from the hustle and bustle of city life.
Add to Itinerary
You can now create your own itineraries to guide your C&O Canal exploration, or you can copy one of ours! Lean more about Itineraries.
Mile Marker: 14.4
Connect: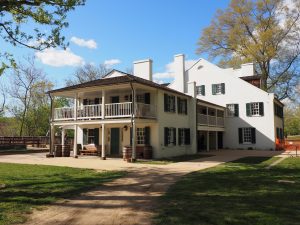 Photo by: Sean Matthews
Nearby Points of Interest:
Social Media Share: