Charles F. Mercer Canal Boat
Once you've seen the Canal and learned about the lifestyle of Canal boat families, the next thing you need to experience is a Canal boat ride. The National Park Service conducts hour-long rides on a replica packet boat, the Charles F. Mercer, in the Great Falls Tavern area.
The Canal wasn't all business. Packet boats like the Mercer carried travelers from Georgetown to enjoy all of the Great Falls area attractions. Those with more time could continue up the Canal for an overnight at Harpers Ferry.
While mules pull your boat upstream, guides in period clothing describe what life was like in the 1870s in the heyday of Canal activity. And you'll discover what it was like for your Canal boat to rise eight feet within a lock. It's a trip back in time—at a slightly slower pace!
Please visit the Park's website here for information on the boat's operations and hours.
Add to Itinerary
You can now create your own itineraries to guide your C&O Canal exploration, or you can copy one of ours! Lean more about Itineraries.
Mile Marker: 14.4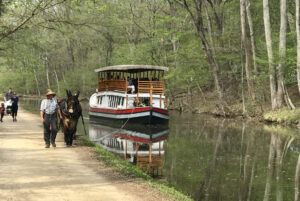 Photo by: Lucy Uncu
Nearby Points of Interest:
Social Media Share: