Gold Mine Trail
During the Civil War, a Union soldier was stationed along the Maryland side of the Potomac River near Great Falls. While cleaning up in a creek, he noticed a glint of gold. After the war, he returned to the area, bought some farm land, and started mining for gold in Montgomery County. Eventually, 30 small mines were opened. One of the largest was the Maryland Mine.
Today, there is a different type of gold found in the Great Falls area around the old Maryland Mine. A loop trail starting at the Great Falls Tavern Visitors Center will take you up past the mine ruins, but the trail itself is the real gold. The trail is appropriately named the Gold Mine Trail.
The Gold Mine Trail is a three-mile loop that usually takes about an hour to complete. It truly is a trail for all seasons. Its towering trees will protect you from the harsh sun in August, provide shelter from spring rains, and give you a glorious show of autumn color in the fall. During the winter snows, look for footprints of the many woodland creatures that call the Gold Mine Trail home.
If you're looking for a longer hike, try one of the spur trails that run off of the Gold Mine Trail. Several different trails connect the Gold Mine Trail to the Anglers section of the park. The Overlook Trail takes you up on a ridge that provides great views of the Potomac River.
Although the gold mines have long since closed, there is still plenty of evidence of the operation just off the Gold Mine trail. A wayside exhibit along the trail will explain the mines and the mining process for you. Just please remember to follow the golden rule of hiking in national parks: leave only footprints, take only memories.
See Gold Mine Trailhead for where to begin your hike.
Add to Itinerary
You can now create your own itineraries to guide your C&O Canal exploration, or you can copy one of ours! Lean more about Itineraries.
Mile Marker: 14.4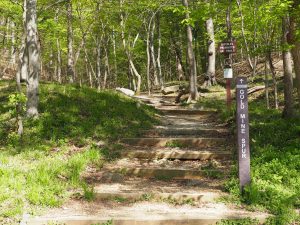 Nearby Points of Interest:
Social Media Share: