Glen Echo Park
Bolstered by the income of their patented "culinary eggbeater" that could go in reverse, twin brothers Edwin and Edward Baltzley settled Glen Echo and set about building a summer educational resort similar to one that had been founded in Chautauqua, New York in 1874. It was an impressive community, complete with castle-like buildings, a hall of philosophy, and a 6,000-seat amphitheater. Attracting residents to live in this resortlike community was another matter. In fact, rumors of malaria kept people away, and the Chautauqua project failed.
The property was eventually converted into an amusement park with a street car line that was built out from Washington. The street car was instrumental because it provided both a means for visitors to reach the park and a source of electricity for lighting and mechanical attractions.
The amusement park was closed in 1968. After fending off proposals to create high-rise apartment buildings, Glen Echo has come full circle, transformed into a kind of "arts park" inspired by the original Chautauqua idea. It includes a children's theater, crafts classes, the historic Denzel Carousel, and the grand Spanish Ballroom. It is managed by the National Park Service and is open to the public.
Add to Itinerary
You can now create your own itineraries to guide your C&O Canal exploration, or you can copy one of ours! Lean more about Itineraries.
Mile Marker: Outside of Park
Connect: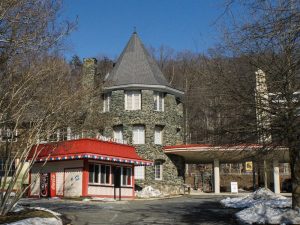 Glen Echo Park by: Suzanne Lugerner
Photo by: Suzanne Lugerner
Nearby Points of Interest:
Social Media Share: