Big Pool
A natural pool, known as Big Pool, begins at mile 112.1. At roughly 1.5 miles long, it was a convenient turning point for canal boats. Big Pool is a natural depression that was filled with water during C&O Canal construction.
Within Fort Frederick State Park, Big Pool is a popular fishing and boating site, and though there is a boat ramp, gas motors are prohibited. It is primarily a warm water fishery, meaning good fishing for species such as largemouth bass, catfish, carp, bluegill, etc. Big Pool is lined with cornfields which allows for wildlife watching, particularly deer.
Add to Itinerary
You can now create your own itineraries to guide your C&O Canal exploration, or you can copy one of ours! Lean more about Itineraries.
Mile Marker: 112.1-113.8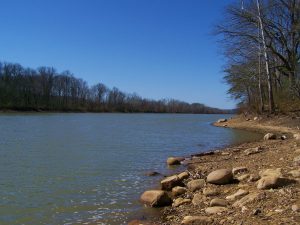 Photo by: Kathy Bray
Social Media Share: