Fort Frederick State Park
Bordering the Potomac River and surrounding parts of the C&O Canal is Fort Frederick State Park. A 585-acre park in the Cumberland Valley of Maryland, it is named after Fort Frederick, a stone fort that served to protect Maryland's settlers during the French and Indian War. During the Civil War, Union troops were often stationed near the fort to guard the C&O Canal, and in 1922 the State of Maryland acquired the fort. The development of the state park began in the 1930s.
Visitors can experience history from the colonial period to the present during annual artillery firings, junior ranger events, colonial children's days and the 18th Century Market Fair. More modern activities such as boating, camping, fishing, picknicking, and hiking are also available. The barracks inside the fort are open seven days a week from Memorial Day to Labor Day, and weekends in the spring and fall. Inside, you'll find staff dressed in 18th century garb giving visitors a sense of daily life during that time period.
Add to Itinerary
You can now create your own itineraries to guide your C&O Canal exploration, or you can copy one of ours! Lean more about Itineraries.
Mile Marker: 112.4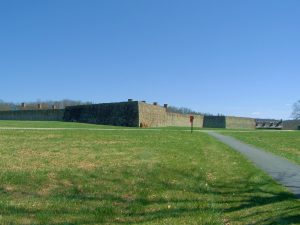 Fort Frederick By: Kathy Bray
Photo by: Kathy Bray
Social Media Share: