Friends of Fletchers Cove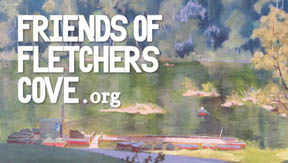 Give Now to Friends of Fletchers Cove
The Friends of Fletchers Cove formed in November 2014 to address the environmental problems threatening Potomac River access at Fletchers Cove. Over the years, silt has filled in the Cove, affecting fish habitats and making the dock in the area dangerous. Although the C&O Canal National Historical Park repaired and reopened the dock in April 2015, a variety of problems still exist in this area.
The Friends of Fletchers Cove are a group of dedicated volunteers who are raising money and forming partnerships to improve the Cove area. Their long-range plans include the following:
Forming committees focused on growing our list of strategic partners and achieving our goals.
Finalizing an arrangement with the C&O Canal Trust (the Park's non-profit friends group) to act as our fiscal agent, enabling us to now accept tax deductible donations.
Developing a short-term plan to proceed with soil and sediment sampling of the material in the Cove, and soliciting bids for the work.
Submitting an application to the DC Preservation League to have Fletchers Cove considered as an "Endangered Place".
You can learn more about the Friends of Fletchers Cove on their website.
Support the Friends of Fletchers Cove
The C&O Canal Trust is functioning as the fiscal agent of the Friends of Fletchers Cove. You can donate to support this project in two ways:
Write a check. Checks should be made out to the "C&O Canal Trust." Please place "Friends of Fletchers Cove" in the memo line. You can mail checks to the C&O Canal Trust, 1850 Dual Highway, Suite 100, Hagerstown, MD 21740.
Give Now to Friends of Fletchers Cove