Shrivers Basin and Main Basin
Near downtown Cumberland, the Canal divided into two elongated turning basins for boats: Main Basin and the broader Shriver Basin. Shriver Basin angled inland from the dividing spot and Main Basin continued along the river. Double locks watered both basins and let boats pass back and forth from the basin to the river – although a steam pumping station was needed later to elevate the water level for the 50 miles of canal downstream. A boatyard on the canal berm, started in 1855 by Frederick Mertens and John Snyder, built canal boats.
Add to Itinerary
You can now create your own itineraries to guide your C&O Canal exploration, or you can copy one of ours! Lean more about Itineraries.
Mile Marker: 184.0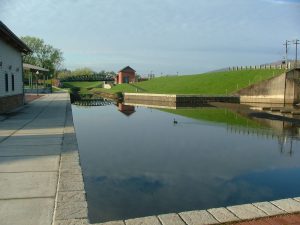 Photo by: Tina Yoder
Nearby Points of Interest:
Social Media Share: