Stickpile Hill Campsite
Stickpile Hill is another ridge that forces the Potomac River in its looping pattern along the southern edge of Green Ridge Forest State Forest. It is said that the ridge got its curious name from a local hobo who was killed and was buried under a pile of sticks. An unfortunate namesake!
When the Western Maryland Railroad expanded west from Hagerstown toward Cumberland, a tunnel through Stickpile Hill provided a much shorter alternative to following the river bend. The tunnel still exists, but its entrances can sometimes be a challenge to find.
The free overnight campsite provides a portable toilet, picnic table, grill/fire ring and water source.
Please Note: Potable water may not be available at each campsite. Water is treated with iodine. Please plan to have water purification tablets with you. Water is turned off from November 15 to April 15 each year.
Please visit the C&O Canal National Historical Park's website for detailed camping information, or you can call 301-739-4200 with any questions. Site reservations can be made via the Recreation.gov website.
Add to Itinerary
You can now create your own itineraries to guide your C&O Canal exploration, or you can copy one of ours! Lean more about Itineraries.
Mile Marker: 149.4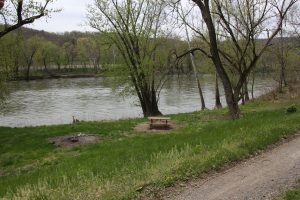 Photo by: Robin Lynn
Nearby Points of Interest:
Social Media Share: