Devils Alley Campsite
Bordering Green Ridge State Forest to the north, Devil's Alley Campsite is one of the more remote hiker/biker campsites along the towpath. It is named after a hollow located upstream about two and a half miles. Like all of the free 31 hiker/biker campgrounds, overnight visitors can expect a portable toilet, picnic table, grill, and water source.
Close to the campsite is the site of an 1832 century sawmill owned by William Carroll. The name of Carroll's company, the Town Hill Mining, Manufacturing and Timber Company, was an indication that Carroll had some big development plans for the area, but it was not to be. Eleven years later, he was bankrupt. The chimney of his sawmill is all that remains.
Please Note: Potable water may not be available at each campsite. Water is treated with iodine. Please plan to have water purification tablets with you. Water is turned off from November 15 to April 15 each year.
Please visit the C&O Canal National Historical Park's website for detailed camping information, or you can call 301-739-4200 with any questions. Site reservations can be made via the Recreation.gov website.
Add to Itinerary
You can now create your own itineraries to guide your C&O Canal exploration, or you can copy one of ours! Lean more about Itineraries.
Mile Marker: 144.5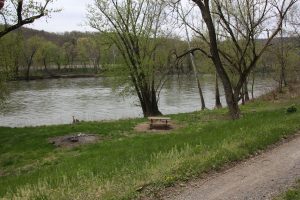 Photo by: Robin Lynn
Nearby Points of Interest:
Social Media Share: