Ruin of Jarboe's Store
Just as crossroads have become gathering places in the automotive age, so too did upstream Canal locks become places to meet and do business in the mid 1800s. Lockhouse 25 is a good example. Canal boat families and crew would sell their wares to local residents, and other merchants would also set up shop. Here, close to Lock 25, you can find the brick ruins of Jarboe's store. During the late 19th century and early 20th century, Eugene E. Jarboe ran the grocery and feed store and served as postmaster at Edward's Ferry. Jarboe tragically drowned in the lock while loading cattle. His three children ran the store until 1906.
Add to Itinerary
You can now create your own itineraries to guide your C&O Canal exploration, or you can copy one of ours! Lean more about Itineraries.
Mile Marker: 30.9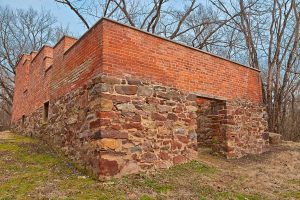 Social Media Share: