Lock 25 Edward's Ferry
Activity at Edward's Ferry began very early in the Civil War with a Union encampment and commissary established here in 1861 by General Charles Stone. "Camp Stone," as it was called, served as a hospital for casualties fighting nearby at Ball's Bluff.
Later that year, Professor Thaddeus Lowe used this location to ascend large balloons for the Union to spy on Confederate camps across the river in Leesburg, VA. The balloons were seen as a novelty to "old fashioned" Union generals such as General Winfield Scott, but with a nudge from President Lincoln, Scott approved the construction of five balloons.
The river was shallow at Edward's Ferry, and the crossing was often used as a place where opposing pickets would wade into the Potomac and actually meet and exchange pleasantries. One Minnesotan wrote in a letter home that when the river froze over, Union pickets crossed the ice to shake hands and exchange buttons with their Confederate counterparts.
Two years later, and about a week prior to Gettysburg, the entire Union army crossed the Potomac at Edward's Ferry. The crossing became quite challenging however when scouts far underestimated the width of the river and pontoon bridges fell short of their objectives. The bottleneck created a backup of wagons, artillery and 90,000 men that stretched for more than 20 miles.
The lockhouse at Edwards Ferry has been rehabilitated and includes historic furnishings and interpretation about the Civil War activity in the area. It is available to guests for overnights stays. Click here to learn more and to book your stay.
Add to Itinerary
You can now create your own itineraries to guide your C&O Canal exploration, or you can copy one of ours! Lean more about Itineraries.
Mile Marker: 30.8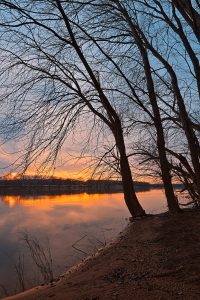 Social Media Share: