Nolands Ferry
Before the United States was a nation, Nolands Ferry had already been established as a vital crossing on the Potomac. Ferry operations were licensed here as far back as 1735—connecting a main north/south route for settlers that became known as the Carolina Road. In fact, a young Thomas Jefferson crossed the Potomac here on May 10, 1776, on his way to signing the Declaration of Independence in Philadelphia.
Philip Noland took over ferry operations about 1754, and it became a relatively busy hub. It is the site of several Revolutionary War crossings—used by both the colonists and the British. It was used by the Quakers, Swiss, Germans, Dutch, Swedes and others who were moving south from Pennsylvania. The ferry site included a country store, wagon shop, shoemaker, tailor and blacksmith shop. The Licksville slave market, which catered to buyers from the deep south, was also located nearby.
It wasn't until 1848 that a bridge was built to carry traffic over the Canal to the ferry. The Canal company originally resisted the bridge due to lack of funds, but gave in when the ferryboat they used to transport farmers and their produce over the Canal sank.
As Washington became more developed, this upstream crossing became less and less popular, and eventually all but disappeared from maps of the region. Sandstone abutments of the bridge are still visible today.
Add to Itinerary
You can now create your own itineraries to guide your C&O Canal exploration, or you can copy one of ours! Lean more about Itineraries.
Mile Marker: 44.6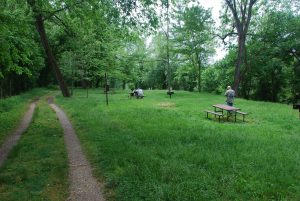 Photo by: PATC GPS Rangers
Social Media Share: