Lock 42
Locks 41 and 42 are located at the north end of a calm stretch of Potomac River aptly named "Big Slackwater." Depending on which direction a Canal boat was headed, locks 41 and 42 either dropped boats to the river or returned boats to their normal 16 feet above river level. The locks were originally constructed of blue-gray limestone, but many sections have been replaced with concrete.
In October of 2012 a major restoration of the canal towpath was completed, restoring a previously inaccessible section south of these locks through "Big Slackwater." After two 1996 floods washed away much of the towpath, Canal travelers had been forced into taking a five-mile detour for 15 years.
Add to Itinerary
You can now create your own itineraries to guide your C&O Canal exploration, or you can copy one of ours! Lean more about Itineraries.
Mile Marker: 89.0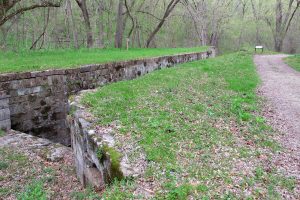 Photo by: Bud and Dell Cline
Nearby Points of Interest:
Social Media Share: