Kayak Run/Feeder Canal
Some of the nation's most accomplished kayakers, including many Olympians, have spent hours perfecting their craft on Potomac River whitewater training runs. One training site is here on the feeder canal, originally built to allow the Potomac River to feed into the C&O Canal as it made its way into Georgetown. There are 40 to 50 training gates here in Class I-II difficulty levels at normal river flow. A dirt path near Lock #6 (off the Clara Barton Parkway) leads to the kayak run.
Add to Itinerary
You can now create your own itineraries to guide your C&O Canal exploration, or you can copy one of ours! Lean more about Itineraries.
Mile Marker: 5.6
Connect: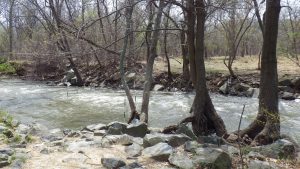 Photo by: Jennifer Hearn
Nearby Points of Interest:
Social Media Share: