Lock 6
When you happen upon the lockhouse nestled beside Lock 6, whether by walking, biking, or driving past, you wouldn't know that this quaint house along the canal had witnessed so much history.
In the 1770s, John Ballendine built a skirting canal with a grist mill around Little Falls, from the present site of Lock 6 to Fletchers Cove. George Washington's Pawtomack Canal Company used Ballendine's inspiration more than 10 years later to create a series of skirting canals at Little Falls, Great Falls, Seneca Falls, and more, so boats could utilize the river while avoiding the dangerous sections. After the short tenure of the Pawtomack Canal Company, land was converted to the newly formed Chesapeake and Ohio Canal Company. The ground-breaking ceremony for the C&O Canal on July 4, 1828, occurred not far from where Lockhouse 6 now stands.
Builders used Aquia sandstone from a nearby quarry to construct the lock. This light gray stone can also be seen in many historical buildings in Washington, DC. The lock was completed in September 1830, with the first boats floating past on October 1. This was the first section of canal to be completed and watered.
Many families lived in Lockhouse 6, including Martha King, one of the few women lock keepers. She worked on the canal for 30 years and continued to live in the lockhouse after the National Park Service took over the canal in 1938. More remarkably, King became a park service employee at the age of 84!
Today, Lockhouse 6 has a new function as one of the Canal Quarters lockhouses. Visitors of all ages can spend the night and imagine the life of the locktenders and their families so many years ago. Click here to book your stay now!
Add to Itinerary
You can now create your own itineraries to guide your C&O Canal exploration, or you can copy one of ours! Lean more about Itineraries.
Mile Marker: 5.4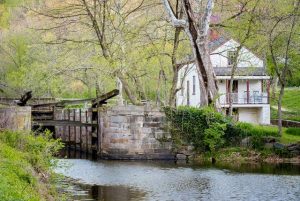 Social Media Share: