Kanawha Spring
Swiss nobleman Christoph Graffenreid was attracted to the "small lake with many springs" he found at these "enchanted islands in the Potomac River above the falls." Archeologists have determined that he was referring to Kanawha Spring. The name of the spring and the neighboring village of Canavest were both derived from the Conoy Indian tribe, whose people inhabited Canavest. Although the Canavest villagers were friendly, they informed Graffenreid that other Indians in the area might not have the same temperament.
The spring itself has been surrounded by a chain link fence for many years for safety purposes. Be on the lookout for Bald Eagles that have been using the favorable conditions here to raise their families.
Add to Itinerary
You can now create your own itineraries to guide your C&O Canal exploration, or you can copy one of ours! Lean more about Itineraries.
Mile Marker: 47.6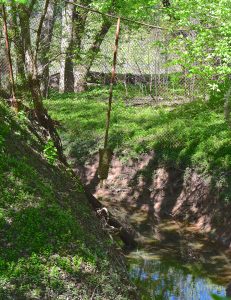 Photo by: Allison Little
Social Media Share: