Calico Rocks Campsite
Calico Rocks was the name given to a type of composite stone found in this area. Sometime known as "Potomac Marble," Calico Rocks was a jumble of pebbles mixed into limestone.
The rock caught the eye of Benjamin Henry Latrobe, an architect of the U.S. Capitol, but a quarry closer to Washington was ultimately used for Capitol construction. An outstanding example of the Calico formation can be found a half mile further south along a path from the Canal to Camp Kanawha.
The wooded campsite is close to Heater's Island Wildlife Management Area and the small town of Point of Rocks. It's also closer than you might like to a railroad line, so earplugs for sleeping might be useful.
Please Note: Potable water may not be available at each campsite. Water is treated with iodine. Please plan to have water purification tablets with you. Water is turned off from November 15 to April 15 each year.
Please visit the C&O Canal National Historical Park's website for detailed camping information, or you can call 301-739-4200 with any questions. Site reservations can be made via the Recreation.gov website.
Add to Itinerary
You can now create your own itineraries to guide your C&O Canal exploration, or you can copy one of ours! Lean more about Itineraries.
Mile Marker: 47.6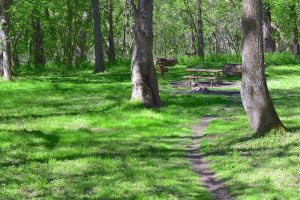 Photo by: Allison Little
Social Media Share: