Horseshoe Bend Campsite
Where the Potomac River makes a huge U-shaped turn is the appropriately named Horseshoe Bend Campsite. Like other hiker/biker overnight stops, travelers can expect to find a portable toilet, picnic table, grill and a water source. Free stays at the campsite are limited to one night.
Downstream from the campsite about a third of a mile is the remains of Lock 40, heavily damaged by Jubal Early's Confederate raids of 1864. During the same raids, Early's troops also burned about 60 Canal boats. The Lock was built with blue-gray limestone quarried on the other side of the river about a mile and a half away.
Please Note: Potable water may not be available at each campsite. Water is treated with iodine. Please plan to have water purification tablets with you. Water is turned off from November 15 to April 15 each year.
Please visit the C&O Canal National Historical Park's website for detailed camping information, or you can call 301-739-4200 with any questions. Site reservations can be made via the Recreation.gov website.
Add to Itinerary
You can now create your own itineraries to guide your C&O Canal exploration, or you can copy one of ours! Lean more about Itineraries.
Mile Marker: 79.7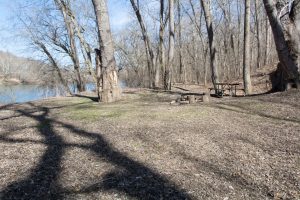 Photo by: Andy and Lesley Flaim
Social Media Share: