Great Falls Snack Bar
Hungry visitors are encouraged to grab something to eat at the Great Falls Snack Bar located in the Visitor Center courtyard at Great Falls Park. Vending machines are set up at the snack bar, and on weekends, food trucks can often be found in the parking lot.
Add to Itinerary
You can now create your own itineraries to guide your C&O Canal exploration, or you can copy one of ours! Lean more about Itineraries.
Mile Marker: 14.4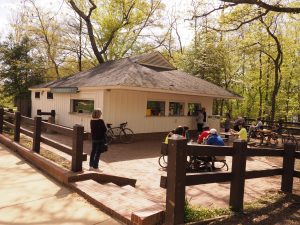 Great Falls Snack Bar By Sean Matthews
Nearby Points of Interest:
Social Media Share: