The Gordon-Roberts House
While museums can give you a sense of what life was like in the late 1800s, your best glimpse back in time is the Gordon-Roberts History House. Named for the two families that resided here, today it is owned by the Allegany County Historical Society and open for tours.
Judge Josiah Gordon, a member of the Maryland House of Delegates and President of the C&O Canal, built the house and lived here with his family for 20 years. W. Milnor Roberts and his family resided here next. At this time, Cumberland was the second largest city in Maryland, and Washington Street was home to state senators, House of Representative members, and other political hotshots.
The period rooms display all aspects of home life - furnishings, clothing, textiles, art, toys, and more. Listen to period music and sip a cup of tea served by a costumed docent.
Add to Itinerary
You can now create your own itineraries to guide your C&O Canal exploration, or you can copy one of ours! Lean more about Itineraries.
Connect: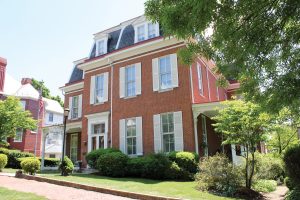 Photo by: Allegany County
Social Media Share: