Cumberland Valley Campsite
The first campsite south of Williamsport on the Canal, Cumberland Valley Campsite is named after the nearby railroad of the same name. The Cumberland Valley Railroad was built to connect Harrisburg, PA with Chambersburg—another Pennsylvania town near the Maryland border. An important supply line for the Union army, the railroad was often targeted by the Confederates. It was also the first railroad that used sleeper cars for its passengers from 1837 to 1848.
Please Note: Potable water may not be available at each campsite. Water is treated with iodine. Please plan to have water purification tablets with you. Water is turned off from November 15 to April 15 each year.
Please visit the C&O Canal National Historical Park's website for detailed camping information, or you can call 301-739-4200 with any questions. Site reservations can be made via the Recreation.gov website.
Add to Itinerary
You can now create your own itineraries to guide your C&O Canal exploration, or you can copy one of ours! Lean more about Itineraries.
Mile Marker: 95.2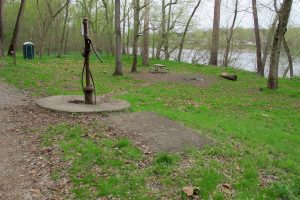 Photo by: Bud and Dell Cline
Social Media Share: