Falling Waters
Falling Waters, West Virginia got its name from a cascading stream near the Potomac. A convenient river crossing, its most famous crossing came in the summer of 1863.
After the Confederate defeat at Gettysburg, General Robert E. Lee and his army retreated toward the Potomac River, seeking safety in West Virginia. Heavy rains stranded the Confederate army in Maryland for days, and Lee's army worked making pontoon boats to cross the river. Rains continued, and ambulance wagons with the wounded and cattle were ferried across while conditions permitted. By the night of July 13, water levels had subsided enough for the Confederates to cross the Potomac River while Union forces deliberated how to attack. The rain and darkness concealed the retreat, with branches spread across the pontoons to muffle the sounds of horses, wagons, and artillery. When Union troops realized the enemy had forded the river, they charged the Confederates and a battle ensued. Both armies disagreed in the newspapers after the fact about exactly how many Confederate men were captured – General Lee estimated around 500 while Union Major General George Meade put the number at 2,000. Historians tend to agree with Lee.
Add to Itinerary
You can now create your own itineraries to guide your C&O Canal exploration, or you can copy one of ours! Lean more about Itineraries.
Mile Marker: 94.4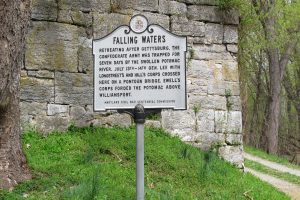 Social Media Share: