Chain Bridge
Bridges built over Washington's Little Falls had a way of disappearing during the first part of the 1800s. Floods washed away two wooden bridges and the first namesake chain suspension bridge built over the river. But every time a flood took one away, another was built in its place. Good thing. The site is rich in history.
During the British attack on Washington in 1814, a State Department clerk hid the Declaration of Independence and other important documents at Patterson's Mill on the Virginia side of the bridge. Dolley Madison made a separate escape across the bridge with a wagon full of valuables. And the Virginia side of the bridge was also the site of an aborted duel between Vice President Henry Clay and Virginia Senator John Randolph (no politicians were harmed!).
Maybe the most well-known person associated with the bridge was the "sleeping sentinel" of the Civil War. Near the beginning of the war, Confederate sentinels were stationed on the Virginia side of the bridge and Union sentinels were stationed on the other. After falling asleep at his post, Union Private William Scott was sentenced to be "shot until dead" for his ill-timed nap. Fortunately, the private was well-liked and his regiment petitioned President Lincoln for a pardon—and it was granted. It has been remembered as the most famous instance of Lincoln's ercy.
Add to Itinerary
You can now create your own itineraries to guide your C&O Canal exploration, or you can copy one of ours! Lean more about Itineraries.
Mile Marker: 4.2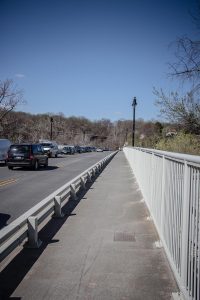 Nearby Points of Interest:
Social Media Share: