Cacapon Junction Campsite
Although the Great Cacapon River isn't much more than a creek, it was seen as an important resource for commerce upstream. Flatboats and rafts brought iron, flour and lumber downstream from Bloomery Gap and the Cacapon valley.
Serious consideration was given to building yet another dam at the mouth of this tributary, but the riverbed conditions made it problematic. A short connecting canal across the mouth of the Cacapon to Dam No. 6 upstream was also considered. Neither option mattered when the B&O Railroad reached this part of the Potomac Valley.
The B&O Railroad bridge is visible from the campsite, making it one of the most scenic sites on the Canal.
Please Note: Potable water may not be available at each campsite. Water is treated with iodine. Please plan to have water purification tablets with you. Water is turned off from November 15 to April 15 each year.
Please visit the C&O Canal National Historical Park's website for detailed camping information, or you can call 301-739-4200 with any questions. Site reservations can be made via the Recreation.gov website.
Add to Itinerary
You can now create your own itineraries to guide your C&O Canal exploration, or you can copy one of ours! Lean more about Itineraries.
Mile Marker: 133.6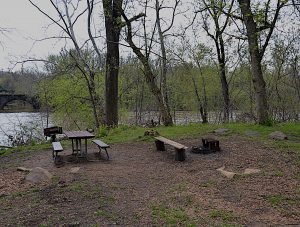 Photo by: Alan Taylor
Social Media Share: