Lock 54
The Potomac River parallels the east side of Tonoloway Ridge before slicing through it in the vicinity of Lock 54. Here, you'll find only the tops of the lock walls, which were constructed of tan sandstone. The lock itself has been filled in with dirt.  The stone foundation of the lockhouse is still visible on the other side of the lock.
With its proximity to Dam No. 6, Lock 54 also featured a feeder channel between the towpath and the river. It extended to the guard lock at the dam.
Add to Itinerary
You can now create your own itineraries to guide your C&O Canal exploration, or you can copy one of ours! Lean more about Itineraries.
Mile Marker: 134.0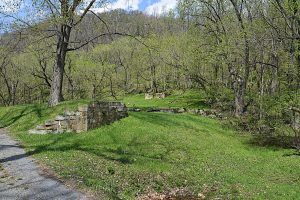 Photo by: Alan Taylor
Social Media Share: