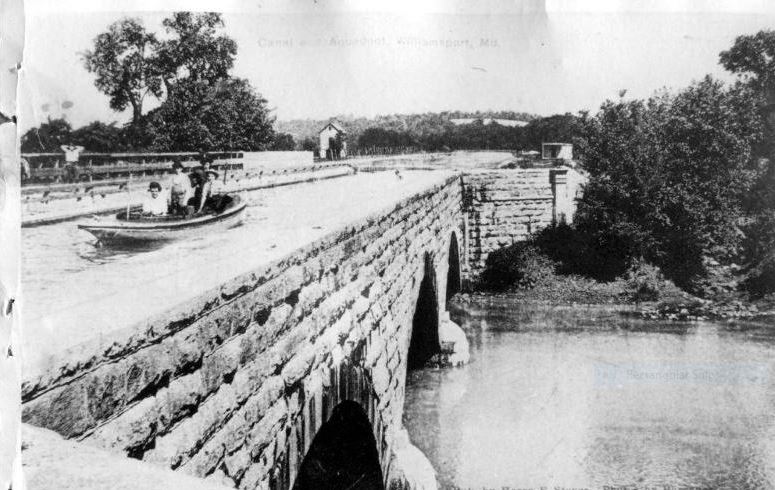 C&O Canal aqueducts are essentially bridges of water, allowing boats to pass over creeks and rivers flowing into the Potomac River. The Conococheague Aqueduct is one of eleven that were built to allow boats to make it from DC to Cumberland.
This aqueduct was built between 1833 and 1835, and was used until August 1863 when Confederate soldiers damaged it in an attempt to stop the transportation of coal to Georgetown, where it was being used by the Union Army. Repairs were completed within a few days and the canal was back in working order. The next incident was more serious. The wall of the aqueduct collapsed in the early morning of April 29, 1920 as a boat was passing though. The captain reported that he saw the wall "waver" as it entered the aqueduct and upon realizing the imminent danger he was in, he jumped from his boat to the abutment. The mule drivers upstream noticed the commotion and immediately released the 4 mules, saving them from being pulled into the aqueduct and swept into the river. The boat quickly washed out of the aqueduct and into the river with the escaping canal water. This time, repairs lasted over four months, but once again, the canal was open for business. Four years later, in 1924, two floods caused great damage to the canal and the company was forced to close the canal permanently.
Construction to restore the aqueduct began in August of 2017 and work has included constructing cofferdams in the Conococheague Creek, rebuilding the aqueduct piers, rebuilding and lining the aqueduct prism to ensure a watertight base, repairing the stone work, installing a period- appropriate guardrail, and removing the berm to allow water to reach the aqueduct once more. As of July 2019, the area has been re-watered and is in the testing phase of the project, to ensure any concerns are addressed before the opening and ribbon cutting ceremony on August 8, 2019.
So what now? The path across the berm is no longer available, since the berm itself had to be removed to re-water the aqueduct. An existing structure, the historic railroad lift bridge, has been modified to enable pedestrians and cyclists to cross the canal. This is located by the overflow parking lot by the Cushwa visitor center. To cross with wheelchairs, strollers, or bike trailers, parking is available at Lockhouse 44 and at the Bollman Bridge at River Bottom Park. Dam 5 is the next closest location along the towpath that has parking.