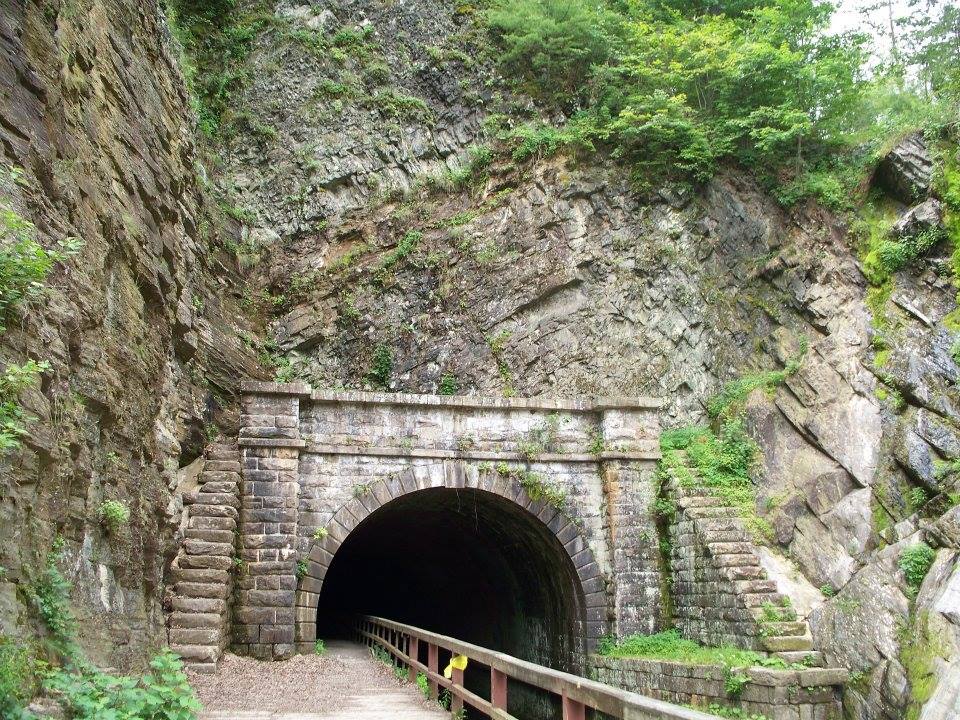 When you visit the Park, be sure to head out to the western end for a visit to the Paw Paw tunnel.  Built as a bypass to very challenging terrain at Paw Paw Bends on the Potomac River, the 3,118 foot long tunnel, built by hand in the mid-1800s and containing close to 6 million bricks, is an engineering marvel.
Open year-round, the tunnel is passable on foot or bike (but you'll need to dismount to traverse the length).  Come prepared and bring a flashlight or headlamp for the darkest middle section – you'll need it!  One end of the tunnel is covered during the winter months to prevent freezing and cracking of masonry but a doorway is left open to allow access year-round.  There is a trail that runs over the tunnel for those who prefer to stay outside or for those who are traveling on horseback.  If you come on a rainy day you may be treated to the sight and sounds of the waterfall inside that flows as a result of heavy rain.  It's even larger after a major snow melt in early spring.
In warmer months you can hear the sounds of frogs and catch a glimpse of salamanders.  Dripping water, echoing voices, and darkness may sound like an amusement park fun house but it's all just part of the unique experience for visitors who travel through this man-made wonder.
The Paw Paw tunnel is located at mile 155.2 in the park. For more information go to our website at https://www.canaltrust.org/discoveryarea/paw-paw-tunnel/.