Shinhan Limestone Kilns
At this point along the Canal, you can observe brick-lined arches in a concrete facing. These are the remains of several limestone kilns that were used to create fertilizer, plaster and cement during the 19th century. Owned by O.J. Shinhan, the kilns were operating as late as the 1960s. Cement was likely not produced here after the turn of the century, however, as Portland cement became the preferred product.
To transform raw limestone into its final burnt powder form, it was first broken down to nut-sized pieces by an "iron cracker." The smaller pieces were placed in alternate layers with coal at the top of the kiln. The burnt limestone was drawn out at the bottom and ground into powder using millwheels. Powder was measured in bushels and placed in sacks or barrels for shipment downstream.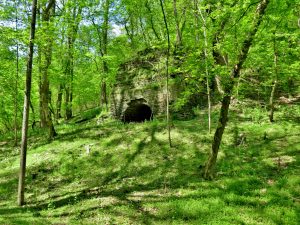 Photo by: Bud and Dell Cline
Social Media Share: