House Falls and Cow Ring Sluice
About 4 1/2 miles below its confluence with Antietam Creek, the Potomac River rumbles through House Falls, named after a family that owned land along the river and a Potomac island in the mid 18th century.
John Semple, who owned a furnace at Antietam, eventually acquired the land and built Cow Ring Sluice around 1769. The 150-foot sluice, dug from the limestone bottom along the Virginia shore, permitted Semple's boats to more easily skirt the House Falls rapids en route to the Frederick Forge.
The craftsmanship of the Cow Ring Sluice was highly acclaimed; in fact it was sometimes mistaken as one of the Patowmack Company's skirting canals, built many years later. The company provided further improvements to the sluice to accommodate wider longboats.
Add to Itinerary
You can now create your own itineraries to guide your C&O Canal exploration, or you can copy one of ours! Lean more about Itineraries.
Mile Marker: 66.0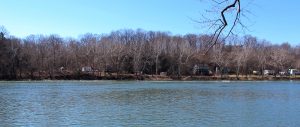 Photo by: Bud and Dell Cline
Social Media Share: