Potomac Edison Power Plant
Dam No. 4 reaches 800 feet across the river. Its original rock rubble construction was no match for periodic floods on the Potomac, so it was eventually restored as a 20-foot high masonry "high-rock" dam in the mid 1800s. It then survived repeated attempts by the Confederates to destroy it—thanks to the marksman of the Sharpsburg Home Guard who fired on the Virginians as they attempted to drill holes for blasting.
In 1906, the Martinsburg Power Company decided to build a power plant at the dam on the West Virginia side of the river. After many delays, the $223,000 plant began generating 1,000 kilowatts of electricity in October of 2009. Most of the energy served nearby Martinsburg, specifically for streetcars and lighting.
Today, the plant still produces electricity as part of the Potomac Edison system. Its 1,000 kilowatts of output is enough to power about a third of Shepherdstown.
Add to Itinerary
You can now create your own itineraries to guide your C&O Canal exploration, or you can copy one of ours! Lean more about Itineraries.
Mile Marker: 84.6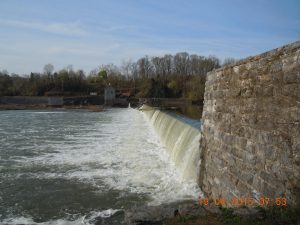 Photo by: PATC GPS Rangers
Nearby Points of Interest:
Social Media Share: