Point of Rocks
Point of Rocks, 14 miles south of Frederick, has for centuries been a transportation crossroads, starting with the Native Americans who used the area for major river crossings, lodging, and hunting. They were followed in the early 1700s by European traders and settlers. The town grew slowly as farms and large plantations were settled, but it was the arrival of the railroad and canal in the mid-1800s that led to the town's rapid growth. From 1828 to 1832, the B&O Railroad's western terminus was at Point of Rocks while the B&O Railroad and the C&O Canal companies awaited a court decision on how both the railroad and canal would pass by the "point" just west of town. In 1832, the court ruled in favor of the canal, but both modes of transportation passed parallel to each other, and the B&O ultimately reached Cumberland first.
During the canal era of the mid-1800s to the early 1900s, Point of Rocks was a vibrant town with hotels, restaurants, mills, general stores, jewelry stores, and even an ice cream shop. The canal terminated operations in 1924, leading to the decline of Point of Rocks. Given the town's location below the confluence of the Potomac and Shenandoah Rivers, it has a history of frequent flooding and subsequent rebuilding. In 1936 Point of Rocks saw its largest and most destructive flood with 41 feet of water. With the town's main source of industry gone, it was largely not rebuilt.
Today, the original village area is a county park and a parking lot for railroad commuters. But, a deli, convenience and gas station store, restaurant, library, church, and the Point of Rocks Train Station, one of the most photographed stations in America, remains. Point of Rocks is just off Route 15 with easy access to the Washington DC metro area by way of the MARC train. In spite of that proximity, it retains its charm as a small country town.
Download brochure: C&O Canal Trail to History: Point of Rocks, Brunswick, Harpers Ferry
Add to Itinerary
You can now create your own itineraries to guide your C&O Canal exploration, or you can copy one of ours! Lean more about Itineraries.
Mile Marker: 48.2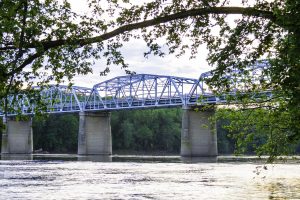 Photo by: Bruce Saunders
Social Media Share: