Olmsted Island
Here, near lock 17, is another worthwhile diversion along the towpath. Follow an easy quartermile walkway along boardwalks and on a series of bridges over a terraced floodplain to Olmsted Island. You'll find fantastic panoramas of Great Falls and Mather Gorge from the Olmsted Island overlook, but there's more to the island than the views.
The island's location, perched in the middle of the Potomac River, is responsible for giving the island one of the most biologically diverse habitats within the whole National Park system. Potomac River floods constantly change the island as new seeds are washed in from upstream and debris piles are moved downstream.
Olmsted Island is named for Frederick Law Olmsted, Jr., a landscape architect and preservationist. The trail is handicapped accessible, but dogs are not permitted.
Add to Itinerary
You can now create your own itineraries to guide your C&O Canal exploration, or you can copy one of ours! Lean more about Itineraries.
Mile Marker: 14.4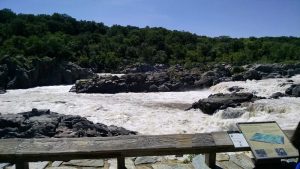 Nearby Points of Interest:
Social Media Share: