Mule Barn
At mile marker 109, two hundred feet upstream on the berm side, sits a mule barn used to house mules during the winter months when the canal was closed. The 'engines' of canal boats, mules usually worked in pairs of two. While one pair towed the boat for a six-hour shift, called a "trick" and covering about 16 miles, the other pair would rest in the mule barn on the boat. The mules pulled 120 tons of coal along the Canal on a diet of corn, hay, and oats.
The National Park Service reconstructed the Mule Barn as a historic testament to the hard-working mules on the Canal.
Add to Itinerary
You can now create your own itineraries to guide your C&O Canal exploration, or you can copy one of ours! Lean more about Itineraries.
Mile Marker: 109.0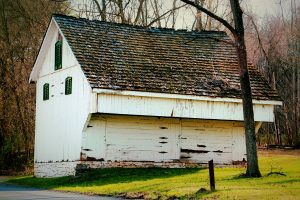 Photo by: MJ Clingan
Nearby Points of Interest:
Social Media Share: