Middlekauff's Dam/Labor Riot
Upstream from the bridge over Little Conococheauge Creek is a stone dam providing a head of water for Middlekauff's Mill. Near the dam is a hill where an 'Irish Civil War' broke out in January 1834.
Rivalries between workers erupted in a labor riot when workers from Cork, Ireland, working on Dam no. 5 assaulted workers from Longford, Ireland, working on Dam no. 4. Eight days later, 600-700 Longford men marched up the Canal to Middlekauff's Dam to find 300 Cork men waiting for them on the hill. State militia and federal troops were sent in to control the riot, and leaders of both sides eventually signed a peace treaty.
Add to Itinerary
You can now create your own itineraries to guide your C&O Canal exploration, or you can copy one of ours! Lean more about Itineraries.
Mile Marker: 106.2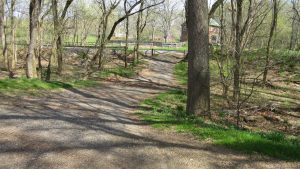 Photo by: PATC GPS Rangers
Nearby Points of Interest:
Social Media Share: