Fifteenmile Creek Drive-in Campground
Like other campsites on the Canal accessible by road, stays at Fifteenmile Creek are limited to 14 consecutive days between May 1 and October 1 and no more than 30 days in a calendar year. Toilets, fire rings/grills, picnic tables and water source are provided. The campground overlooks the Potomac River and the towpath.
Just downstream from the mouth of Fifteenmile Creek is the town of Little Orleans, which served as a point of lumber transshipment on the Canal. Today, it's mostly known as the home of "Bill's Place," a bar and country store popular with Canal travelers, and the last place for 30 miles (towards Cumberland) to replenish provisions and enjoy a cold beer.
Crossing Fifteenmile Creek is a single-arch aqueduct built over 12 years beginning in 1838.
It was constructed of hard flint stone quarried nearby but work was delayed on the aqueduct when the Canal company ran out of funds.
Please visit the C&O Canal National Historical Park's website for detailed camping information, or you can call 301-739-4200 with any questions. Site reservations can be made via the Recreation.gov website.
Add to Itinerary
You can now create your own itineraries to guide your C&O Canal exploration, or you can copy one of ours! Lean more about Itineraries.
Mile Marker: 140.9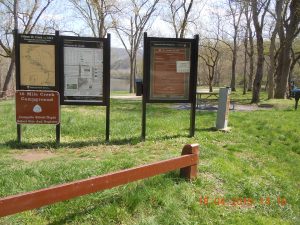 Photo by: PATC GPS Rangers
Social Media Share: